Reliable Bed Bug Control in Lake Balboa, CA
Bed bugs…you've likely heard of them but if you've never experienced them, consider yourself lucky. This particular pest has been on the rise throughout Los Angeles County and even across the United States. Among the many bugs you may encounter, this is one you never want to simply ignore.
Like some other Lake Balboa pests, bed bugs won't disappear on their own without treatment. However, the sooner you catch the problem, the easier it will be to remediate the issue and obtain relief.
Our superior bed bug exterminators attend regular training and stay up to date on the latest techniques and treatments in the industry. This allows us to deliver the best services that provide the best results, no matter how minor or serious your bed bug invasion.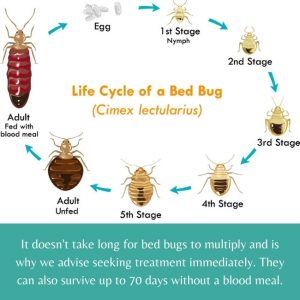 Many of the traditional methods used for bed bug control are no longer effective; bed bugs have built a resistance to these pesticides. So what are the options today? When you call on Quality Pest & Rodent Exterminators at (818) 230-5286 we will inspect your property and discuss the best treatment options based on our findings.
It might be best to opt for bed bug treatment with heat if it's a serious infestation, or chemicals may be more suited to your needs if it's not quite that serious yet. Not to worry – your pest technician will discuss your options and things to know for each so we can help you make the best informed decision.
Inspecting for Bed Bugs
While not all of our customers that call for help with bed bugs have seen the bugs, we encourage you to phone us right away even if you simply suspect they're in your property. When you call us we can schedule a time to come inspect the space and confirm just what the problem may be.
Bed bugs are tiny little things that can be hard to see, but it's not impossible. Our Lake Balboa bed bug exterminators know exactly where to look – all the favorite hiding spots of this particular bug. Yes, they will infest your bed, but they can also infest nearby furniture, floor coverings, behind outlets, and so many other areas in your space.
Signs of Bed Bugs
It's easier to identify if this particular pest is present when you know what to look for. This bug is about the size of an apple seed, so while it may be pretty small, you can definitely see them if you're looking.
Some of the signs to be aware of that indicate the presence of bed bugs include:
The bugs themselves
Shed skin
Eggs
Dark spots (fecal matter)
Waking up every morning with bites
Evidence of bed bugs may be on your mattress, bedding, bed frame, and even nearby furniture. Many times, when there's an infestation it's easy to see; they will be everywhere and will come out even during the day. Bed bugs are nocturnal and come out of hiding during the nighttime to feed on you, so during the day they're not easy to spot, unless there's an infestation.
Cost for Bed Bug Treatment
This is probably the most common question we receive when residents call us with concerns about bed bugs. We can often provide an estimate by phone once you explain the situation, but it's often easier to give a more accurate quote after inspecting the property. The larger the infestation the more it 'may' cost, but every situation is different so give us a call at (818) 230-5286 to find out what it will cost for bed bug treatment on your property. Many times it will require more than a single application/treatment but not always.
Bed Bug Treatment at Home
We also have many customers who call us after attempting to deal with bed bugs on their own, only to be disappointed with the lack of results. While there are some products out there that can help with this type of pest, many times they're only effective when combined with professional bed bug extermination. If you're in this situation, not to worry. We can still help! It's never too late to take control of the situation – we believe everyone deserves to be bed-bug free and are standing by to assist you. You can attempt your own bed bug treatment at home but we advise contacting a professional if you don't start seeing actual results in a few days.
Get Relief from Bed Bugs With Our Superior Treatments
When you need help with bed bugs, don't hesitate to contact our qualified team of professionals at Quality Pest & Rodent Exterminators. If you have any concerns don't hesitate to ask us when you call (818) 230-5286. Taking immediate action is necessary to avoid a serious infestation and we are here, standing by, ready to help when you need expert bed bug control in the Lake Balboa, CA area.